The Connect module is the optimal interface for connecting various weighing electronics and peripheral devices.
It is already preconfigured for many scale electronics and can easily be connected to new electronics. The parallel connection of several weighing systems is possible.
Whether through a manual weighing process via the program or through self-weighing by the driver, the desired data is automatically recorded via cheque card, touchpad, transponder, handheld transmitter or smartphone.
All forms can be adapted to the specific needs of the customer and printed on any printer in any number.
Sampling to determine the delivered quality is supported simultaneously. Samples can be taken from both individual and combined deliveries.
With Connect, weighing process data is conveniently and reliably transferred to the ZEUS system where it can be further processed for accounting, nutrient documentation and analysis.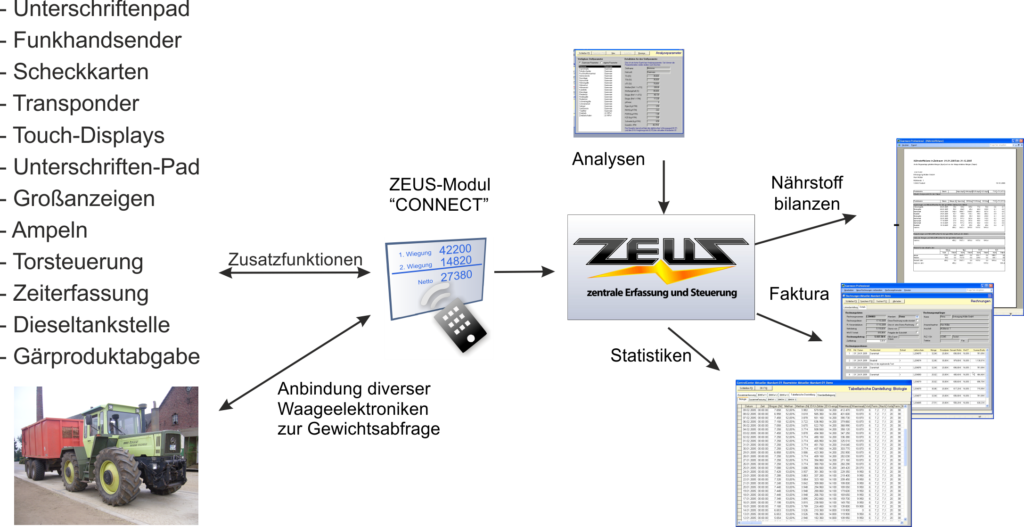 The Connect-Web extension enables complete driver self-weighing via a browser or smartphone. Peripheral devices such as large displays, wireless handheld transmitter, or card readers can thus be eliminated.
---